The Therapist At Work: Personal Factors Affecting The Analytic Process (EFPP Series)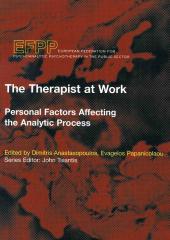 Επιμέλεια:
Αναστασόπουλος, Δ, & Παπανικολάου, Ε.
"The EFPP monograph series has established itself as an important source of high- quality psychoanalytic psychotherapy papers. This volume adds to its growing reputation with a group of papers that deals with the analytic relationship from several perspectives, in particular the influence of the analyst/therapist on the evolution of the therapeutic process. This is, of course, a fundamental issue and one that is hotly debated within the analytic community." -- Paul Williams from the Foreword
Dimitris Anastasopoulos and Evangelos Papanicolaou have gathered together a distinguished group of contributors to focus on the therapist's participation in therapy and the influence of personal factors on the therapeutic relationship. The majority of the papers grew out of the proceedings of the fourth EFPP Congress of the Adults Section in 2000 and explore the therapist-patient relationship with the emphasis on the influence of the therapist as opposed to that of the patient. Topics discussed in this collection include the impact of the patient on the analyst, how the analyst's clinical theory and personal philosophy affect the analytic process, the effect of the therapist's dreams on the therapeutic process, the psychoanalyst's influence on the collaborative process, and intersubjective phenomena and emotional exchange in the psychoanalytic process. Certain papers focus mainly on theory while others are more clinically-oriented.
This volume presents an overview of historic and current thinking and aims to generate yet more discussion on this evolving and important issue. It will be of interest to practicing and training psychotherapists.
Contributors include Dimitris Anastasopoulos, Christos Ioannidis, Judy Kantrowitz, Joachim Kuchenhoff, Gila Ofer, Evangelos Papanicolaou, Maria Ponsi, Claude Smadja, Imre Szecsody, Gisela Zeller.